Welcome To Great Smeaton Academy Primary School
Welcome to our school!
We are a small school, with a big heart.
Every day, we work hard to continue to be the best that we can be.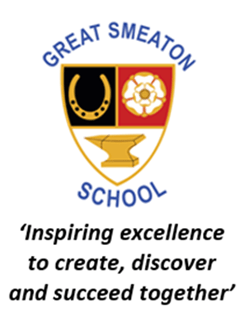 At Great Smeaton School, we are dedicated to creating a caring community and environment and meeting the needs of all our children. We encourage all members of our school community to care for others, through understanding and respect. The school has a warm and secure atmosphere, in which the children feel happy and valued.
The school aims to work towards all children experiencing real success and progress in areas of activity and learning. We provide a wide range of experiences and curriculum and cultural enrichment, in order to stimulate the children's interest and imagination and give them opportunities to experience and learn in all areas of life. We have an ethos based firmly in the personal development and individuality of every child and engendering a life-long love of learning and preparing them for their future lives.
At the heart of the village, we have strong links with parents and the wider community, engaging with local and national groups, developing children's personal and social skills and sense of global citizenship.
Great Smeaton Academy Primary School is committed to equality of opportunity and safeguarding and promoting the welfare of children. Keeping our children safe is of paramount importance to us, and as such we implement comprehensive safeguarding and health and safety procedures, as per our policies.
We welcome visitors and warmly invite you to visit our school to see it in action. If you would like to visit us, please contact the school office. Please also take a look at our school film also in this section to see more of our lovely school and get to know us a little better.